That was two years ago today. Just looking at that picture makes me nervous! Long time readers remember how crazy paranoid I was. Everything ...

May 30, 2013
at
9:42 pm
in
Mrs Q
Someone is all to happy to be a little boy's footrest. I love this dog (and the little boy).

May 30, 2013
at
9:40 pm
in
Mrs Q
I can't say I love my iPad. It's a lifeless device. But I do appreciate its usefulness and I take it with me to work, too. I ditched my smartphone. Yep, you read that right. After using one through the school lunch project and the two years since, I went cold turkey. It was a […]

May 28, 2013
at
10:14 pm
in
Mrs Q
So here's two photos for you… This photo was a bit hard to take because somebody is going through a stage. Here  I cannot put Daniel down without tears because he wants to be held all the time. Fortunately, that is not a problem for me. I mean, I'm away from him all day […]

May 27, 2013
at
8:41 pm
in
Mrs Q
That's my baby in the baby aisle. There's so much stimulation at the grocery store that this little guy fell asleep as soon as we got into the car. A riot of color for him! He's six months old and has started eating solid food this month. I feed him lots of different things including […]

May 27, 2013
at
8:40 pm
in
Mrs Q
Whoops, I didn't have a chance to get this shot on Friday. I guess I could have set my camera down on the ground for the picture, but with a four-year-old running around, that's kind of risky. So a photo of the actual sidewalk will have to do!

May 23, 2013
at
10:53 pm
in
Mrs Q
Tonight I made sloppy joes for dinner (here's the recipe I use — so easy). I knew that I would not be able to get a good shot of that. C'mon, you know what it could look like. So I'm sending a shot of the clutter baby food prep area by the sink. This is […]

May 22, 2013
at
10:52 pm
in
Mrs Q
Update 5/27: Okay, my son got a temporary tattoo that is now fading. **** I got nothing. I don't have a tattoo. No one I know has one either. I wasn't about to ask any of my coworkers, "Do you have a tattoo?" I don't want to know the answer — and can you imagine […]

May 21, 2013
at
10:20 pm
in
Mrs Q
The only action I care to capture. They keep me running and moving and so very happy. My boys are my everything.
Get the book!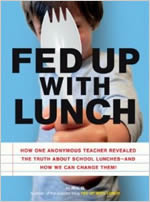 The book is now available!
Get it on Amazon, Barnes & Noble, & Chronicle Books.
Connect with Mrs Q